Anyone and everyone who's a performer needs a good microphone. But when it comes to zeroing in on the best microphone for rapping, it is a totally different ball game altogether. Why? Well for one, a rap artist is not accompanied by a band or other musicians. Much of his performance depends on the sound the rapper makes. What's therefore required is a professional mic for rap vocals, something altogether different from other vocal microphones. That's why selecting a rap microphone is very significant to produce a great vocal performance. When rappers rap, they talk fast, so what every rapper needs is a good microphone-one that delivers detailed and clear sound. With may microphones available in the market, it's difficult to pick out the best, particularly when you're budget constrained. Here's a list of the top 10 best mic for rap vocals 2020 to consider. We've got some serious contenders in the list.

1. Audio Technica AT 2020
This budget-friendly AT 2020 microphone provides considerable power and clear sound. The standard condenser mic connects through XLR, so you'll require an audio interface or separate power supply to power it up. You'll obtain clear audio quality from a well-built microphone, which is available in a USB and XLR VERSION. Although the USB version is cheaper, you'll notice the sound quality isn't great. It offers a wide frequency response, ideal for rapping.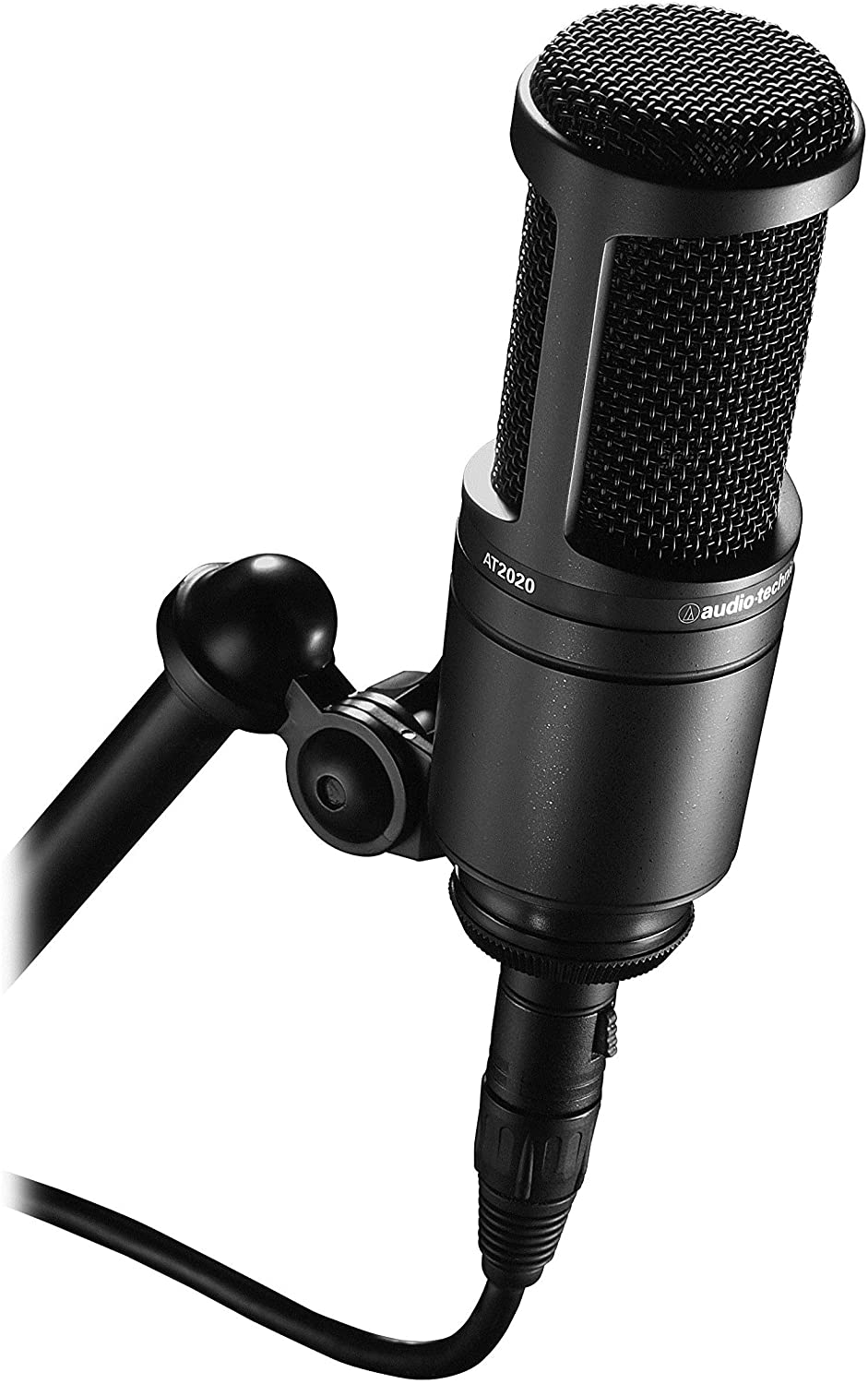 Pros
It comes with a USB output and captures music or acoustic audio for your preferred recording software. The mic mixes the sound of the Audio Technica with quality articulation, which functions perfectly for podcasters, singers, and songwriters. Another benefit is that the integrated headphone helps monitor mic signals and blends pre-recorded and microphone audio. Other advantages include:
It offers great value for money
The headphone input doesn't have lags
The sound is well balanced on acoustic sounds and vocals
It doesn't require accoutrements
Cons
It doesn't have a holder
It's not compatible with Windows 7
There's no integral pad
It comes with a poor-quality case
2. MXL 770 Cardio Condenser Microphone
This microphone is excellent for all-round use. Whether you use it with guitars, a piano, or drums, the microphone offers quality and excellent sound. Recording vocals with this microphone means quality and excellent sound along with bright sounds and solid bass. The advantage is that you can have it at a cheap cost. You'll find it's a great buy since it's cheaper than other quality microphones given the features. You can consider it a multipurpose mic for entry-level musicians and artists.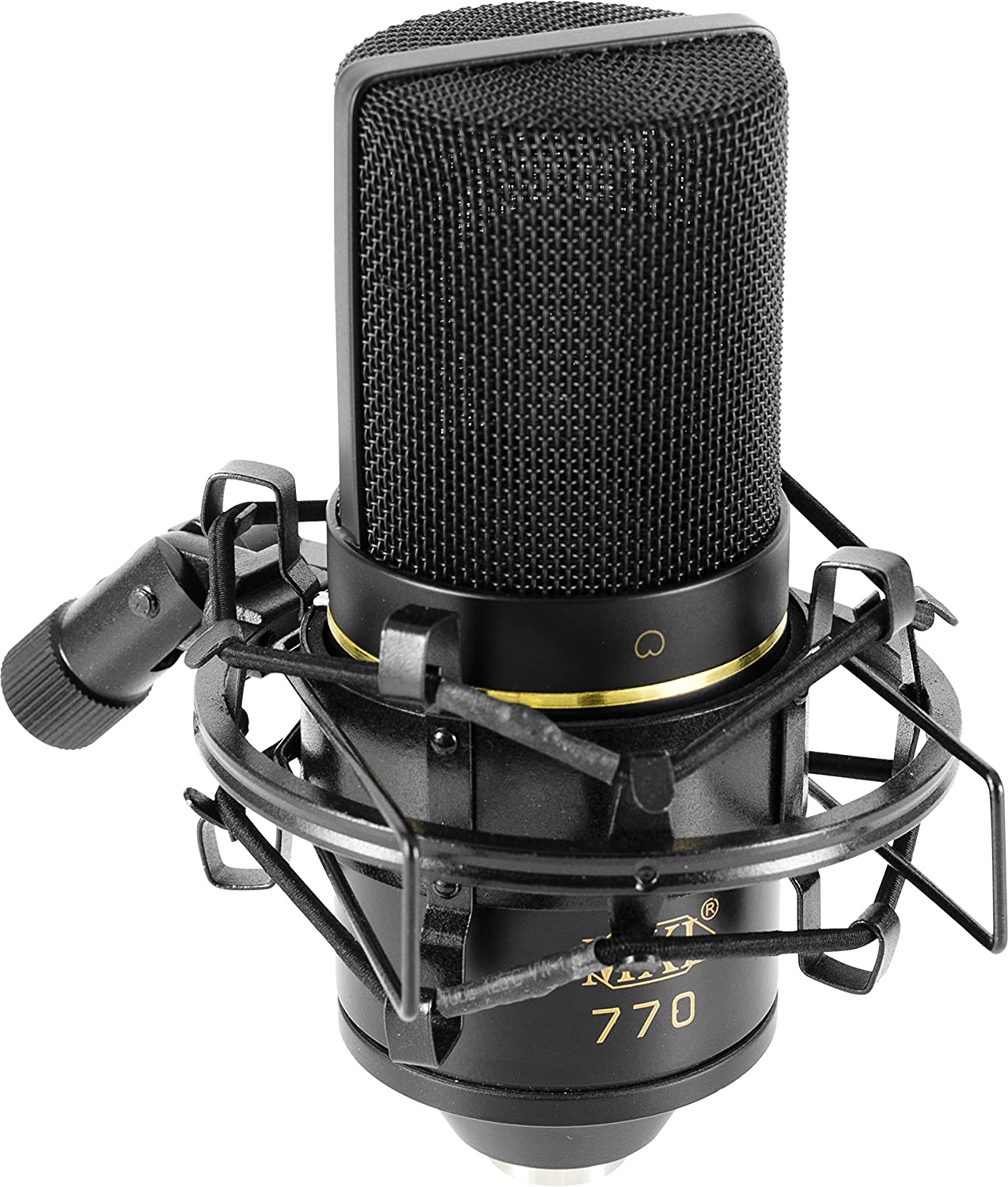 Pros
The MXL 770 outperforms most in its price range and the solid bass makes it particularly effective for rap artists. The microphone features a low frequency that suits both female and male vocalists. Moreover, its filter is low-cut, which can help you maximize your voice by tapering the low end. Another benefit is that it generates very bright and clear sounds with ease. This microphone for rapping makes a good voice sound natural and a thin one sound more substantial.
The price is affordable
It offers clean and clear audio
It offers an excellent deal for the price
Cons
It might pick some background noise. However, if you're just starting as a musician, it's the ideal mic to use. 

3. Audio-Technica AT 4040 Condenser
Pros
The Audio-Technica AT 4040 condenser microphone is associated with great sound. Their microphones and headphones also sustain great audio standards regardless of their cost range. It's great for recording vocals on a budget, has a sleek appearance, and is durable. Like their associated products, it offers more value when compared with the cost.
The sturdy condenser offers a broad frequency range and its fast response makes it ideal for your needs. Another benefit is the broad cardioid pattern, which helps pick up frequencies evenly. You'll also notice that the audio sounds rich and airy.
It has a fast-transient response and the ability to keep up without distortion at elevated SPLs. An important benefit of this microphone is versatility. Its adaptability allows it to sound equally great with a wide array of instruments, from drums to guitar and vocals.
Due to the sound pressure-handling capacity, it can work easily with snares and an overhead placement. Moreover, the low-noise floor and pop filter will eliminate most noise that creeps in because of the microphone's sensitivity.
Other advantages include:
Wider response range
Comes with a carry case and shock mount
Can handle elevated SPL without distortion
The transient response is fast, and the imitation of the original audio is nearly exact

Cons - It has comparatively limited functions - Does not go well with bass instruments and drums
4. MXL 990
The affordable MXL 990 microphone can help you meet your needs without breaking the band. However, its sale typically occurs without the same accessories as the Audio Technica AT 2020. However, you'll find the packaging has a shock mount.
Pros
You can modify and improve it
It has a great appearance
It has a shock mount for decreasing vibrations
Cons - It can at times be overly bright with certain voices - It can generate a "muddy" sound based on microphone technique and placement.

5. Rode NT1A
Rode NT1A microphone comes at a considerably lower cost than more premium models while bearing similar features. However, it's better than NT1, its predecessor. It's an evident upgrade from the former model because it provides a broader frequency range and improved noise cancellation. The design however isn't thrilling though minimalists might find it appealing.
Pros
It comprises abundant useful accessories, including a quality pop shield. You'll discover this accessory eradicates plosives efficiently. You'll notice the audio sounds nuanced and natural, comparable to some costly models. It shunts noise well, so it can pick up even quieter lyrics. Moreover, the low-noise floor means it's possible to keep your distance and still be confident that it will pick up everything perfectly.
Cons
It lacks a filter and an attenuation pad
You might experience noise when recording
 
 ## 6. Shure SM58
Pros
The Shure SM 58 microphone is highly regarded for live performances worldwide. Some artists will even opt for this microphone over a condenser throughout recording sessions. The dynamic mic is reliable, durable, and offers a great tone. The frequency response allows it to blend perfectly with male or female voices.
The response range also enables it to filter any sound that's higher than your voice, for instance, crowd noise throughout a live performance. Additionally, it features a cardioid pattern, making it perfect for vocals.
Cons
It doesn't permit versatility because it's a vocal microphone.

7. AKG D5
The AKG D5 microphone is a huge competitor of the Shure SM58 when it comes to live rap. Similar to the SM58, its frequency response is meant to sound great with female and male vocals. An advantage of this microphone is that it generates brighter sound and has additional specs. Other benefits include:
It's excellent for live vocals
It has a rugged build
Con
It's mainly suited for vocals, making it less versatile. 

8. Sennheiser E835
If you love headphones, you'll know that Sennheiser is a household name. They make great monitoring headphones.
Pros
This microphone offers the same value and quality you can anticipate from the German giant at a competitive cost. An advantage of Sennheiser E835 is that the cardioid pattern allows it focus in on one sound source. Another benefit is that the frequency response is capped off to help decrease crowd noise throughout a captivating performance. Other benefits include:
Additional specs
Studio or live use
Rugged build
Con
Its design is mostly for vocals, making it less versatile. 


9. Beyerdynamic TG V50

The perfectly tuned microphone functions well whether you use it on a stage or in the rehearsal room. It is considered to be one of the best mic for rap vocals.
Pros
The TG V50 provides a powerful balanced and natural sound. The microphone also allows a broad pick up range because of the feedback rejection and cardioid pattern. Another benefit is that it's outstanding in durability, handling, touch, and look. The mic is also appropriate for all studio or live applications and you can get it for under $1000. Other benefits include:
Unique sound holes for feedback reduction
It comes with a storage bag and microphone clamp
The volume is finely tuned for enhanced bass response
Cons
The mic isn't the best for close range vocally because the quality seems thinner and nasally. The microphone's characteristics aren't suitable for everyone because it can become too intricate for the novice and beginner. 

10. Marantz Professional MPM-1000
The 8-millimeter Marantz diaphragm mic comes with a microphone mount. It features a cardioid pattern and a USB port.
Pros
You can connect it directly to a Windows PC
It's an excellent buy for the cost
It has a quiet preamp
It gives great sound on electric and acoustic recordings
The frequency response is smooth
Has high sensitivity
Cons
It lacks USB connectivity
It lacks versatility when recording music

Bottom Line 
 For aspiring rappers, the microphone they use might be one of the most significant decisions they'll make when it comes to live and studio performance gear. You don't want to settle for cheap mics that will merely generate sub-par recordings. If you're looking for that perfect mic that also matches your budget, but don't know where to start, this list of top 10 microphones for recording rap vocals in 2020 will sure come in handy, and that's a (W)rap.