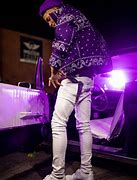 //Bridge\\
Don't make a wrong step this is Atheist Christ and Concept
Most high above all the nonsense What we do to you
will become a religious object
will become a religious object
Some Jesus bleeding on the wall shit
Some heathens feeding on some raw flesh
//Hook\\
This a post pandemic Halloween haunting
School shootings satanic offerings
For years I warned all ya do not drink the water
Atheist Christ and Concept dropping psycho survival knowledge
//Atheist Christ Verse ac\\
Everybody say I wish he would they really don't though.
Have a fat bastard all up in ya crib like they after ya Mojo.
Y'all got the grease but I went and brought the Gojo.
You just tryna have a day with ya girl that's a no go.
Old foes slow to growth but hey they all now know yo-
you just don't know what it is you don't know.
So y'all should just quit talking your shit
to the boss of the spit this the barbecue pit.
Get your paper plates up
when I offer a sniff.
I'm a jump up and bark froth from the lip
type of mufucka spawned from a bitch.
I am Atheist Christ yall the jury just twelve Judas'.
Like I'm Denver Allen Fenton and the judge is the lunatic.
Like I'm out here doing improv ignoring the gods' movie script.
It'll take centuries of scholars just to delve through this shit.
//Atheist Christ Verse ac\\
Fear and Loathing down Heroin Highway
Ima do it ruthless like the hero's in my day.
Y'all ain't Rob the Deniros out my bank-
you just bitch teary eyed shy faced.
Hold your hit through Squirrel Hill
on god that's the word real.
Y'all act like this is ya first deal now hand over the purse and tell ya girl kneel.
When Christ like starts spitting with Concept
it's Sonny at the booth and for that shit the don wept.
It's all death so quit with the nonsense
I don't rock Polo or Carhart I rock monster flesh like the Loch Ness.
A vagabond out to harm fast he's on and past alarms.
Detach your arm leg leg arm and toss em past the farms.
Saturated in bacon grease so the local beasts gnash apart.
You can tell it's Atheist Christ even with the mask put on.
//Concept Verse\\
Lights on and I'm setting the scene,
When I'm on the mic, the dead come to breath.
Whenever I lead with the best of the G's,
I keep it brief cuz I descended from Kings.
It's Halloween, I arose from the fog.
Growling low like a dog, watch me slowly evolve.
Can't shoot me with Silver bullets.
I've never folded cuz I'm only a God.
I'm like Ichabod Crane,
I got voices enter my brain, blood drip from my fangs.
Nigga, y'all git what I'm sayin'?
Cold flow but when I spit, I got flame.
Don't mention my name.
Thirsting for blood and I'm cursing the sun.
Swift on the mic. Show no mercy. You're done.
Just like a mother be nursing her young,
I be feeding you niggas by versing these chumps.
Stalkin' the grave on a funeral night.
When they mourning they Granny, the time become right.
I'm breaking they skull and I'm taking them pictures.
And I'm burning they bodies and sending them with
her
.
They call me a psycho -- a lunatic type.
I'm stalkin' my victims. My movement is slight.
I wear the skin of the victims I kill,
I ain't trippin, my mind's fucking twisted. I'm ill.
//Bridge\\
Don't make a wrong step this is Atheist Christ and Concept
Most high above all the nonsense What we do to you
will become a religious object
will become a religious object
Some Jesus bleeding on the wall shit
Some heathens feeding on some raw flesh
//Hook\\
This a post pandemic Halloween haunting
School shootings satanic offerings
For years I warned all ya do not drink the water
Atheist Christ and Concept dropping psycho survival knowledge
Feedback & Comments
About the Artist
CONCEPT-
Member since June 11 2022