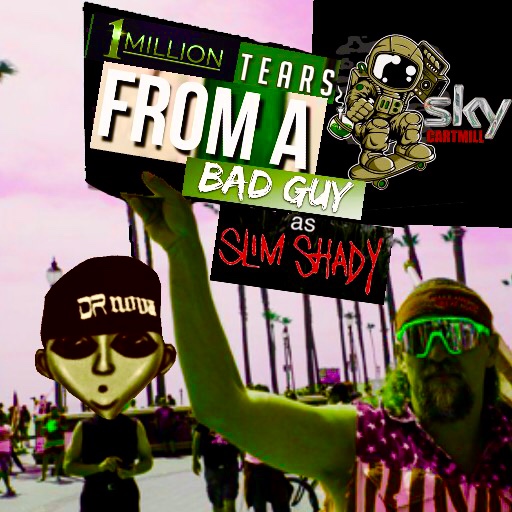 Oddzilla (DRnova as Eminem )
• Written by DRnova
And the Doctors like me & Yatzy & Oddzilla,
Will give you Gorilla like it's all CAP
THIS IS ALL RAW RAP WITH SOME BOOM BAP
BUT U ALREADY KNEW THAT ..I CAN SEE THAT... Photosynthesis
Who is next to Grow ?
I Don't Know 🤷
I might just chill inside my Shadow
Lizard people could be so True
You never know
Would you Consider him extra terrestrial ?
Yo suck down Low if you don't feel my Flow
I X out the game like Tic Tac Toe
Shit that last bar was Cheesy...
Hit you head like a Frozen Freezy...
Kevin bacon Greasy ...
Just like Mashed potatoes and Gravy
Eminem & Slim Shady
I'm like Gone After Nine rips from the Bong
Watch Me !
I'll be fronting like nothings Wrong
I'm fine bitch even if I'm Wasted & half Naked & Sweating
Like I'm about to be Ascended to Heaven
Shit it's just me being me fucked Up
Look at the DRnova Emcee
Fucking up this music industry
Extra Terrestrial will Fucking never show any signs of being too Emotional
So But look Bitch at ...
Who Is floating outside your Window ?
It's Me the Crazy shady type of Emcee
In a spaceship bumping Beats
Sluts !!!
Hoping you could come play with Me ?
Sluts !!!
Bust out and meet the Family
Now just step towards the motherfucking light beam and please don't scream
Because...
We are all about to Party
So please go grab Somebody
Sluts !!!
And let's Head to destination Ten
To the Ill spot next to fucking Heaven
Feedback & Comments
About the Artist
DRnova
Member since August 20 2019